How to Start a Travel Blog and Make Money
When I started my travel blog, I knew upfront that I wanted my blog to work for me. I knew I wanted to partner with companies and brands, and eventually monetize my blog. Little did I know how much hard work and perseverance it took to run a successful and profitable blog. But, I'm here to tell you, it is very much possible. I'm going to walk you through the step-by-step process of creating your own profitable travel blog. Here goes:
STEP 1: Choose a Name and a Niche
For some, choosing a name will be the most difficult part about starting a travel blog. It may take days, weeks, or even months to find the perfect name. Others, it may come to them instantly. However, or whenever you decide on a name make sure it's something that:
A) is unique. Nomadic _____ and Adventurous _____ has been done a hundred times over. Steer clear. Choose something unique to you, or something that may sound completely random, but makes perfect sense to you. For example, Beer & Croissants, or another fave Camel & Chocolates.
B) transcends with time. The 20-Something _______? You know you will turn 30 at some point, right?
C) is not limiting. Avoid choosing names that will limit you to one specific subject or place (unless that is your niche and you will forever and always only write about that subject).
For me, I'm a wanderer. It's what I do. Anyone that knows me, knows this. I wander and get lost in my own little world, so that's how I landed on the name World of A Wanderer. It is definitive enough to describe my travel lifestyle, but also vague enough to encompass any degree of things. It's my world – whatever that entails…travel, life, love, etc.
While deciding on a name for your blog, also be considering your niche. This is important. Not only will it help you possibly come up with a name, but it also defines exactly what your blog is about and will help you determine who your target audience will be. I know I know, you may be inclined to think that everybody is your target audience, but trust me, they're not. You want to hone in on who exactly it is you are writing for. This is paramount when you begin to monetize your blog, because your marketing efforts will then reach people who are actually interested in what you're writing about; thus, increasing your likelihood of converting sales.
With both name and niche, you have to think long term. Again, this is not just a "Dear Diary…" for the world to read, it's your business.
STEP 2: Purchase a Domain Name & Hosting
Purchase a what and what?
I know, it can all be a bit overwhelming when first starting out, but it really is easy peasy lemon squeezy. To break it down as simple as possible, a domain name is essentially your web address. For example, www.worldofawanderer.com – worldofawanderer is my domain name. Hosting is like the rented space for your business, only it's done virtually. Got it?
Luckily, both of the above can all be done in one place to save you time and money. My recommendation is Bluehost.com. I have no shame in admitting that when it comes to techy tech type stuff I am a little…well, inept. However, setting up my hosting with Bluehost was so incredibly easy! Also, you definitely get the most bang for your buck. I mean, c'mon $3.95 per month, that comes with 24/7 support AND a free domain?! You honestly can't beat it.
So, let's get to it and get you up and running with your domain and hosting. CLICK HERE to be taken to Bluehost's site:
1. Click on the green "get started now" button.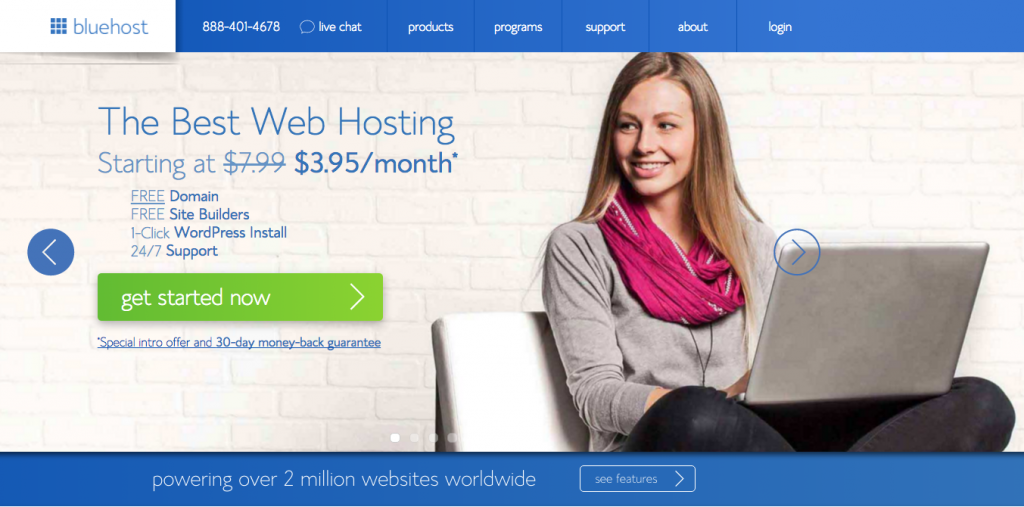 2. Select Your Plan. You have 3 options to choose from. Since you're just starting out, I'd recommend the Basic Plan for $3.95. This should definitely be sufficient enough, and if not, you can always upgrade at a later time.
3.  Reserve Your Domain. Enter your domain name (blog name) in the box on the left. Make sure you DO NOT add www. OR .com. Only enter your blog name without any spaces (i.e. worldofawanderer). Click next.
4. Enter Registration and Payment Information. This page is where you'll enter all of your personal information for registration purposes. Be sure to enter a valid email address, as this is where all your confirmation and important information will come to.
5. Scroll down to package information. Choose your account plan. This is where I made my mistake. I only opted for a 12-month plan which only cost me about $60 at the time. However, when it came time to renew after those 12 months, the plan then jumped to around $155/year. With that being said, I'd highly recommend purchasing the 36-month plan which locks you in at the $3.95/month rate, totaling only $142.20.
6. Select or Deselect add ons. This is all up to the individual user and what you think you need. Personally, I didn't opt for any of the add-ons and I've done just fine.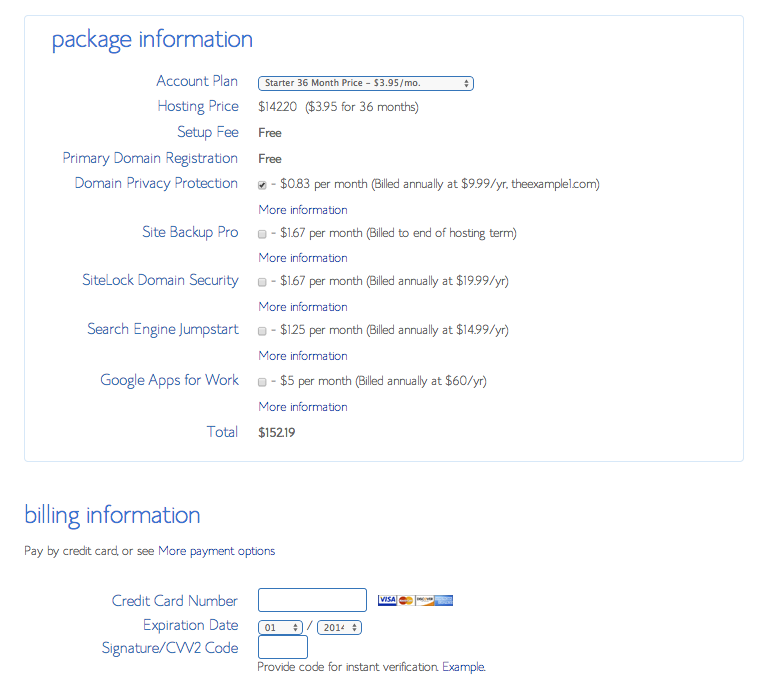 7. Scroll down to payment information. Enter your credit card information here.
8. Click the box to accept the Terms of Service (ToS). Click Submit.
9. Create your password. After you've accepted the ToS you'll be taken to the next screen where you'll create your Bluehost password. Click the blue "Create Your Password" button. Create a password difficult for others, but easy for you. Don't forget to click the ToS box.
You're officially set up with your domain and hosting site. See, easy peasy, right? Now, let's get your blog set up.
STEP 3: Install WordPress
WordPress is pretty much the industry standard for the world of blogging, especially if you're wanting to monetize your blog (which obviously you do, because you're reading this post). It's free and so easy to set up with Bluehost, it literally takes only a few minutes. Here's how it's done:
1. Log into your Bluehost account.
2. You will be directed to, what is called, your CPanel. There's a lot of stuff here, but don't worry, all you need to focus on for now is finding the Website Builders heading, as seen below: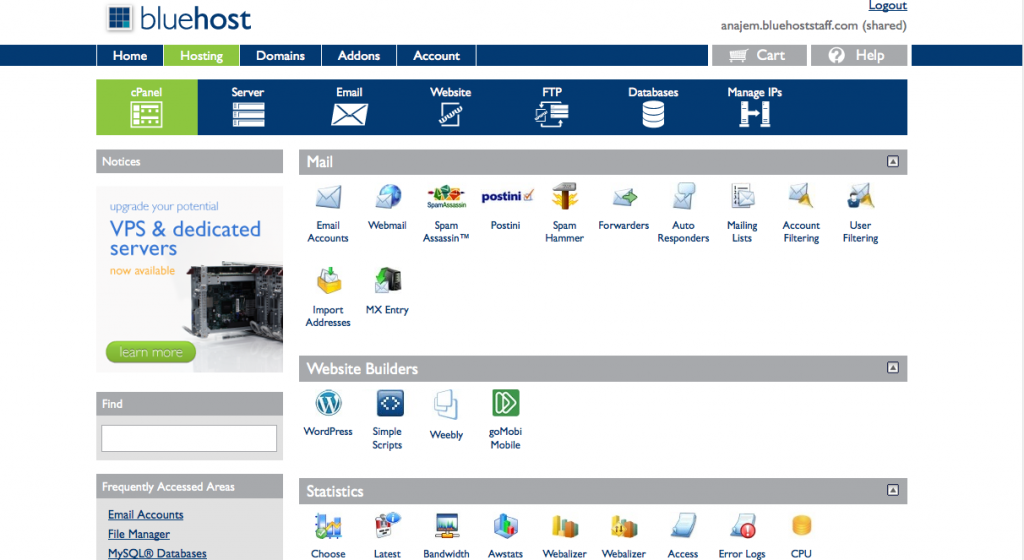 Once you've located it, click on WordPress.
3. Click the green "Start" button.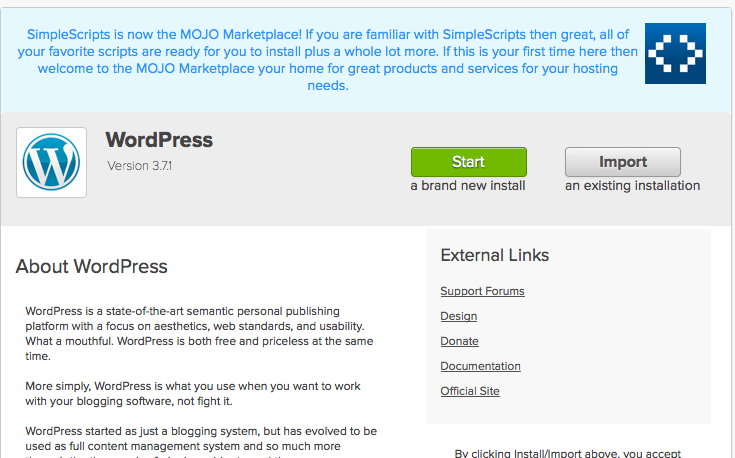 4. Choose your blog name from the drop down. Click "Check Domain".
5. Click Advanced Options and create your WordPress username and password. Click Install Now.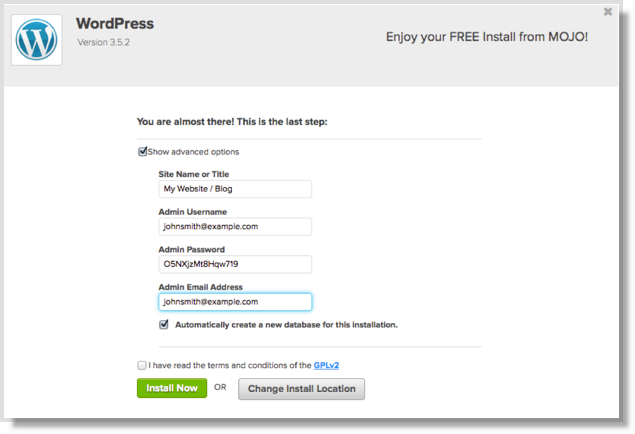 6. INSTALL COMPLETE! YAY!! You are now officially the owner of a travel blog!
Now, for the good stuff.
STEP 4: Prettify your Blog
Now that you've officially got your blog setup, it's time to make it all pretty. Login to your WordPress account at www.yourblogname.com/wp-admin.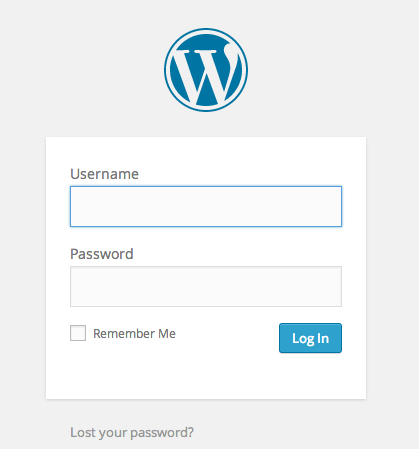 This will take you to your Dashboard. This is the control center of your blog. It's where you write your blog posts, install plugins, check your analytics, and all things of the sort.
Right now, your blog is a blank canvas. You need to add a little life to it, so you'll need to install a theme. On the left-hand panel hover over Appearance, click Themes, click Add New.
Search through the themes and find one that speaks to you. Make sure you utilize the search bar and search keywords such as travel, minimalist, or whatever style you're looking for. There are tons of free themes, but you can also purchase premium themes from any number of websites. Some of my favorites are:
Themeforest (this is actually where I purchased my theme)
Creative Market
Elegant Themes
Theme Trust
Whichever theme you choose, just be sure that it is a responsive theme. Meaning, it automatically resizes to proper size when viewed on mobile or tablet. Once you've found your theme, click Install, then Activate.
You'll also need a logo. If your graphic skills are lacking, like mine, you can always hire someone from my go to site, Fivver, or another favorite, Etsy.
STEP 5: Install Plugins
Plugins are tools that makes blogging life sooo much easier and stress free. They save you time, keep your blog running smoothly, help you attract more readers, etc. Here are some must-haves:
Yoast SEO: If you don't install any other plugin, be sure to install this one. It provides content analysis for search engine optimization. Basically, it helps you help readers find your site more easily on search engines such as Google and etc.
Google Analytics: Helps you keep track of your site's analytics (i.e. demographics, page views, unique visitors, etc).
Askimet: This prevents all those spammy people/bots from plaguing your site. You need this!!
Shareaholic: Makes it super easy for readers to share your content by providing social share buttons.
BackWPup: Another important plugin. Always always always be sure to back up your site, at least once a week, if not more often. This plugin makes it super easy to do just that. You don't want to lose your entire website and all your content due to some freak accident or something. Back it up!
WP Smush.It: Photos can take up a lot of space on your site; thus, slowing it down. This is a bad thing. If it takes your page forever to load, readers may get impatient and exit your site just as quickly as they entered. Smush compresses your photos which helps speed up load times.
CSS Plus: If you know the tiniest bit about coding you may not need this, but if you don't know diddly squat about it (like me when I first started blogging) this plugin is a Godsend. For many affiliate programs (which I'll get to later) you have to add HTML code to your blog. This plugin makes it super easy to do that.
Of course you'll discover more plugins along the way, but these are just a few that are essential when starting out.
STEP 6: Get Writing!
Ok, you've done all the technical stuff to get up and running. Now, it's time to get writing. Usually, the first post is an intro to you and/or your blog, but really it can be whatever you want it to be. It's your blog. Your world. Write something that is going to captivate your audience and keep them coming back for more. Remember, CONTENT IS KING! 
STEP 7: Get Social
We live in the world of Insta this and Snap that's, so having a social media presence is paramount in the world of blogging. I mean, how else are people going to find out about your blog if you don't promote it? Lock in your social media handles and share the heck out of your content, but not in a spammy way (no one likes spam).
My biggest resource for info and content sharing is hands down Facebook. Join as many blogging communities as you can. Search keywords such as travel blogging, travel bloggers, bloggers, blog, travel writers, etc. Other social media platforms you should join are Twitter, Pinterest, Instagram, StumbleUpon, and Flipboard. Experiment with all of them and see which ones work best for you (i.e. brings the most traffic to your blog) and direct your focus to sharing on those.
STEP 8: Build a Profitable Blog
Let me just start by saying that you are not going to be rolling in dough overnight. It takes a lot of time, persistence, and patience. However, if you keep at it, all your hard work will pay off, eventually.
Some may argue that you need to build an audience before attempting to monetize your blog. I beg to differ. It's never too early to monetize your blog, so start right away. Here's how:
1. Sign up for Affiliate Programs. Some websites offer a small commissions on products/services when your reader purchases said products/services. You simply insert the affiliate links into your blog posts where you see fit. Some of my favorite affiliate programs are Amazon, Commission Junction, Hotels Combined, Booking.com.
When choosing affiliate programs, think about what products and services will serve your audience. For a travel blog, travelers need travel insurance. I earn money from both SafetyWing and World Nomads in passive affiliate income. I've used both services and have actually been a SafetyWing subscriber (they have monthly plans) for over a year now, so these are products I can actually vouch for. You can earn HUNDREDS, if not thousands of dollars from promoting something like travel insurance, something that all travelers need. Click here to join SafetyWing's Ambassador program to start earning.
2. Sponsored Content/Trips. This is content that is written for another company and published on your blog. For example, a company pays you to review their product or service and in exchange you write about it on your blog. When first starting out I wouldn't expect to be paid for such things, but you never know. It could happen. However, receiving complimentary stays at 5 star hotels isn't too shabby in exchange for a blog post and social media shares isn't too shabby. Just be sure whatever brands you partner with align with your niche. It may be a turnoff to some readers when you're a travel blogger "promoting" Tummy Teas or something not particularly related to travel.
3. Ads. This is something you may want to explore once you've built a significant following, as many feel the payoff is not worth it when you only have a small amount of traffic coming to your site. One of the most popular ad programs is Google Adsense. You can also sell sidebar ads to other bloggers, brands, businesses. Again, just make sure they align with your own brand.
4. Create Your Own Products. This is a great way to make a profit off your blog. Create any number of things such as E-books, printables, courses, etc. You don't have to have a ton of followers or traffic, it's all about what you're offering. People want invaluable information and will be willing to pay for it. Create something people need/want and market the heck out of it.
5. Sell Photos. If you're a photographer or videographer you can make big bucks from selling your photos/videos. You can sell them on sites such as Shutterstock, iStock Photo, or apps like Image Brief. You can also sell them directly to hotels, tour companies, etc.
6. Sign up for the Travel Blog Monetization Virtual Summit Course. This course was so incredibly informative and provided tons of useful information and tips for monetizing your travel blog. They have modules for all levels of bloggers, whether you're a complete newbie or an OG in the blogosphere. CLICK HERE for a link to the course.
There you have it! I know it was quite a read, but now you have a step-by-step process on how to start a profitable travel blog. It will take a lot of hard work and wine, but it's very possible to bring in income from your travel blog. Now, go forth and prosper!
This post contains affiliate links, which is just a fine way of directing you straight to the source without a bunch of searching on your part.